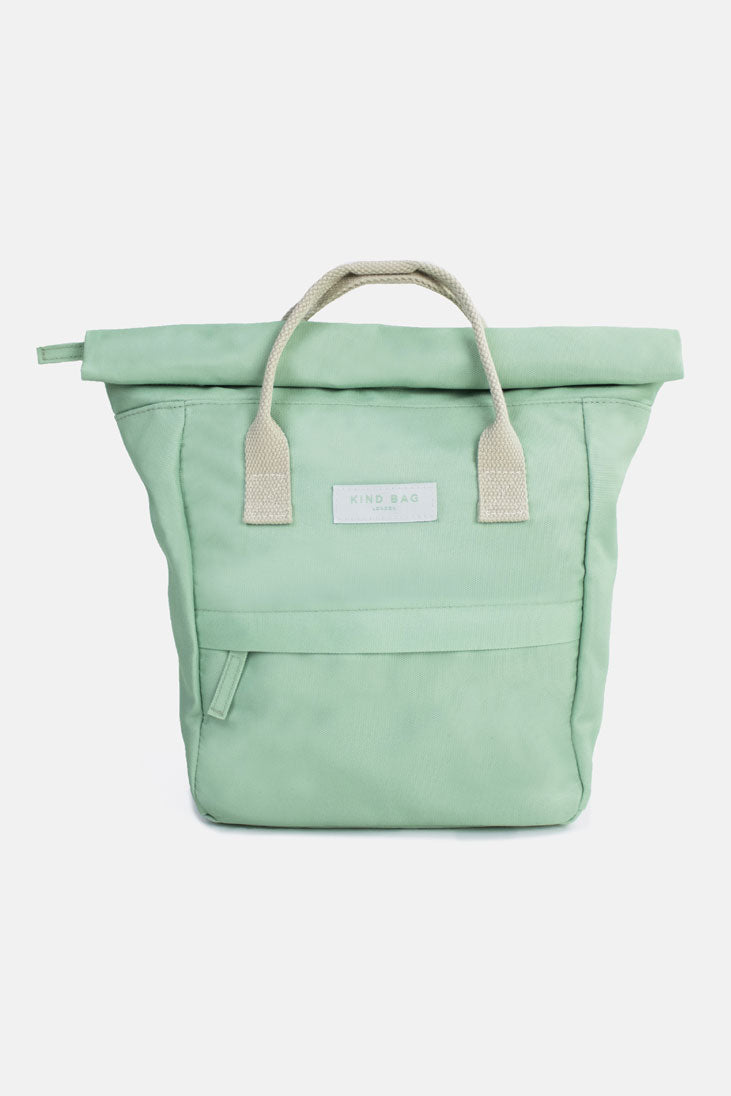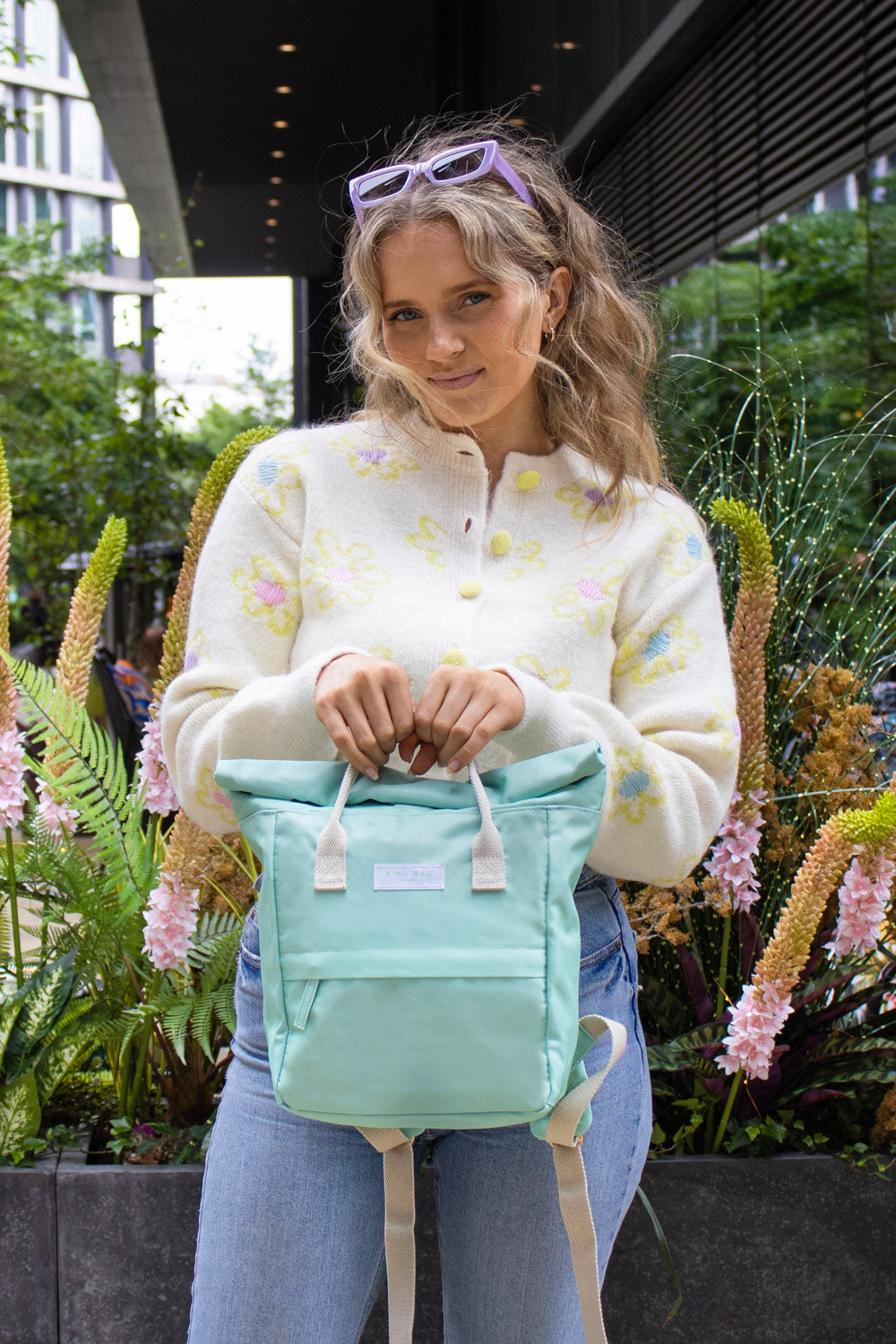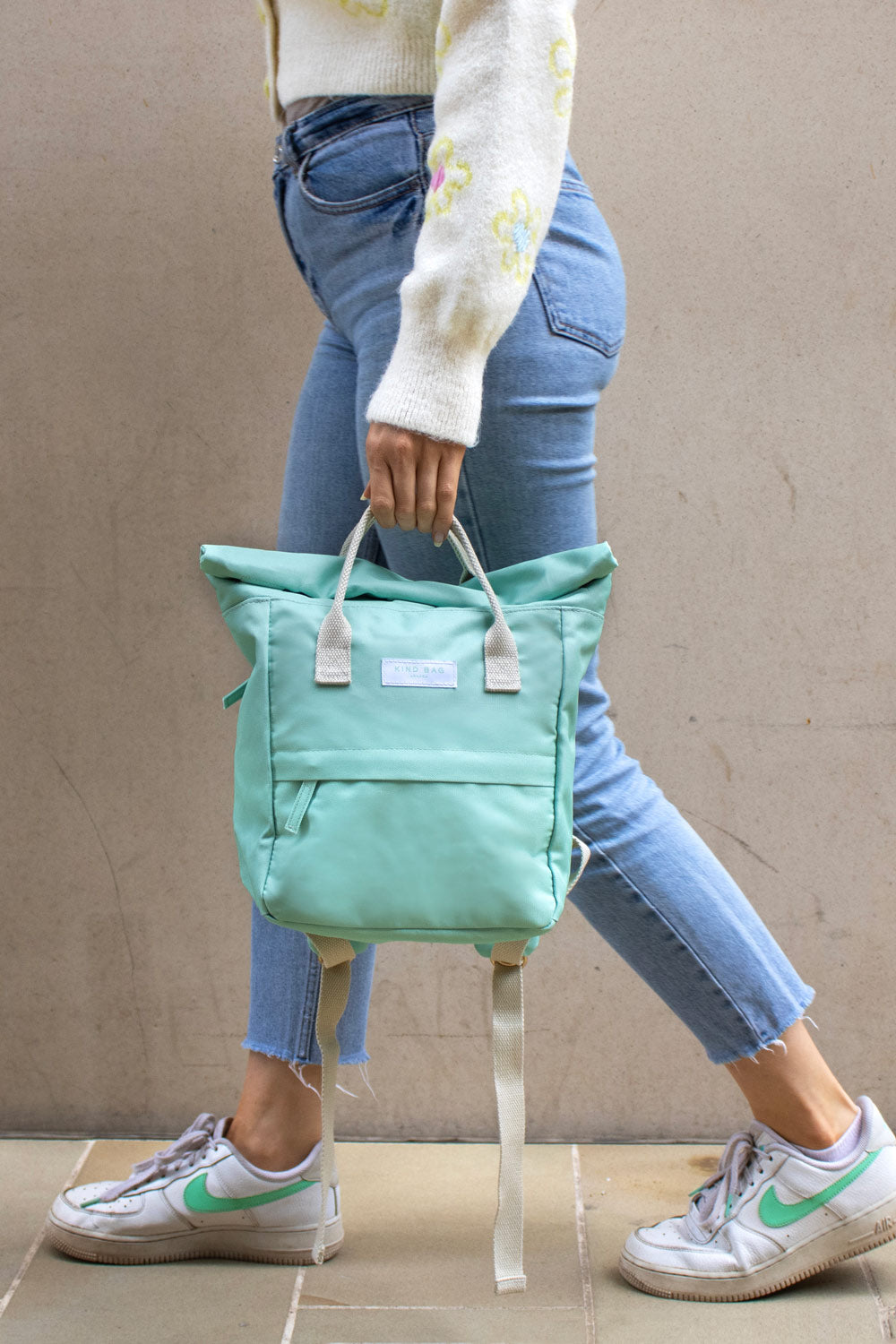 Sage | Hackney "2.0" Backpack | Mini
Enjoy everything you love about our classic Hackney backpacks but without the big load with our Mini Backpacks! These little wonders deliver an equal dose of style and practicality, making them ideal for hitting the festival circuit or to add a pop of pastel to your morning commute.

Despite their minimalist form, they're packed with smart features like an anti-theft pocket and a handy hook for your keys, ensuring your daily essentials stay organised. Compact in size, big on function and chic enough to take anywhere they're the cutest accessory for stashing your essentials on the go!
Comes with a two year warranty.


FEATURES
Made from 12 recycled plastic bottles destined for our oceans creating a water-resistant material without any PFA coatings

Outer/Inner Fabric & Labels - 100% recycled plastic bottles, Zipper - 100% recycled plastic

Carry handles with hidden magnets to keep them together, instead of a tiny snap
Comfortable padding at the back of the backpack & shoulder straps with 100% recycled lining, ensuring your comfort when wearing
1x easily accessible front pocket
1x Anti-theft pocket between the back padding and main compartment
Inside pocket with zip closure, perfect for valuables
Padded back pocket for Ipad or tablet
2x Smaller inside pockets perfect for stationary or valuables
Elastic inside to hold water bottle
Small pocket with zip closure, perfect for valuables
2 hooks, one on the inside and one on the strap to hold keys, purse or reusable water bottle
Anti-theft pocket accessible through side zip
Actively working with charities to better the world.
Sage | Hackney "2.0" Backpack | Mini
PRODUCT SIZES AND CARE INSTRUCTIONS
Product Sizes
Reusable Bags
Medium Reusable Bag - 39 x 64 x 17 cm (15 x 25 x 6.7 in). Pouch - 14 x 15 x 1 cm (5.5 x 5.9 x 0.4 in)
Mini Reusable Bag - 26 x 43 x 14 cm (10 x 17 x 5.5 in). Pouch - 13 x 11 x 1 cm (5 x 4.3 x 0.4 in)
XL Reusable Bag - 46 x 84 x 23 cm (18.1 x 33 x 9 in.)Pouch - 16 x 14 x 1.5 cm (6.3 x 5.5 x 0.6 in) 
Backpacks
Hackney Backpack | Mini - 26 (+12 roll top) x 22 x 12 cm. Capacity of 6.8 litres, 10 litres with roll top  
Hackney Backpack | Medium - 33 (+12cm roll top) x 25.5 x 12.5 cm. Capacity of 10 litres, 14 litres with roll top 
Hackney Backpack | Large - 38 (+17 roll top) x 30 x 14 cm. Capacity of 19.7 litres, 23 litres with roll top 
Weekender Bags
L 44 (L 53 when unbuckled) x W 21.5 x H 35.5 cm 
Tote Bags
Body: 40 x 41 x 10 cm. Handle drop: 27 cm
Small Bags
Pouches - Small: 17 x 14 x 7cm. Medium: 24 x 19 x 12 cm. Large: 36 x 26 x 16 cm
Lunch Bag - L22 x W14 x H33 cm (H24cm when rolled)
Laptop Sleeve (13inch) - 33 x 25 x 2 cm
Care Instructions
Reusable Bags, Backpacks, Weekenders, Totes, Lunch Bags, Pouches, Mesh Bags:
Machine-Wash at 30°C on a Delicate Setting (Spin Cycle Speed at 600-800 rpm). Please do not Tumble Dry. 
-
Laptop sleeves:
Hand Wash Only
DELIVERY INFORMATION
U.K, Islands, Highlands
Standard Delivery with a proof of delivery (3-5 working days / Royal Mail) at £3.95, free for orders over £40
Express Tracked Delivery (1-2 days / Royal Mail) at £6.50, free for orders over £100
All orders placed after 1pm will be dispatched on the next working day.
We use Royal Mail for both Standard and Express delivery for mainland UK. If you require your order to be sent with any other courier, please do get in touch with us before placing an order. 
Sending as a gift?
We'd love you to send our bags directly from our warehouse to your recipient as gifts - rest assured there'll be no billing information included in your order. Our mailing carton is also letterbox friendly for contactless delivery (up to 6 medium bags). You can also add your own message to the packing slip - add your message at the cart page before you checkout. 
Europe
Standard Delivery (3-5 working days) at a flat rate of £11.00. Free for orders over £150.
Please note that your order will be shipped from UK and with the Delivery Duties Unpaid, where the seller is responsible for the export taxes only. It is the buyers responsibility for paying the import taxes upon receipt of the item. The buyer can pay these at the local post office/online.
Countries include: 
Andorra, Austria, Azores Islands, Balearic Islands, Belgium, Bulgaria, Canary Islands, Corsica, Croatia, Czech Republic, Denmark, Estonia, Finland, France, Germany, Gibraltar, Greece, Guernsey, Hungary, Ireland, Italy, Jersey, Latvia, Lithuania, Luxembourg, Madeira, Malta, Monaco, Netherlands, Norway, Poland, Portugal, San Marino, Sardinia, Sicily, Slovakia, Slovenia, Spain, Sweden, Switzerland, Turkey, Vatican City, Armenia, Azerbaijan, Belarus, Georgia, Iceland, Liechtenstein, Moldova, Russia, Ukraine, Albania, Bosnia and Herzegovina, Cyprus, Faroe Islands, Greenland,  Kazakhstan,  Kosovo,  Kyrgyzstan,  Macedonia,  Montenegro,  Romania,  Serbia,  Tajikistan,  Turkmenistan, and Uzbekistan.
Rest of the World
Standard Delivery (3-9 working days) at £15.50, free for orders over £150
MATERIAL
Why choose "100% recycled" material?
100% recycled & recyclable material in all Kind Bags eliminating the need for single-use plastic bags. Vegan and cruelty free. High-quality, premium, strong material that is water-resistant and lightweight.
-
There're so many different bags out in the market to choose from - from cotton, plastic, paper and more. There's of course a reason why we're going for 100% recycled RPET material.

Unfortunately some "eco" bags are not actually ecological for the environment. Except for the plastic pollution in the ocean and landfill, plastic bags are actually the most environmentally-friendly option. Cotton and paper bags actually cost so much more energy to produce, and you need to reuse 7,000 to 20,000 times to have same cumulative environmental impact (water use, energy use, etc.) as a classic plastic bag (source: Denmark's ministry of environment and food).

So, we believe retrieving plastic waste before polluting the ocean or be stuck in landfill  for several hundred years, is a kinder option for our reusable bags. 
Perfect size backpack
Clever magnetic fastenings and hidden pocket made this compact backpack a cut above. Lovely lilac colour.
Excellent small backpack
Very well made comfortable mini backup with lots of secure pockets. Recommended
Perfect little bag
I already have the bigger size bag which is great for traveling and shopping but this little version is perfect for normal "handbag" duties. Hands free for Grandma duties - perfect!!!
Beautiful bag
The backpack is beautiful! It's a really nice size and feels very sturdy and well made. I bought the smaller size but it's still very roomy. I love it!