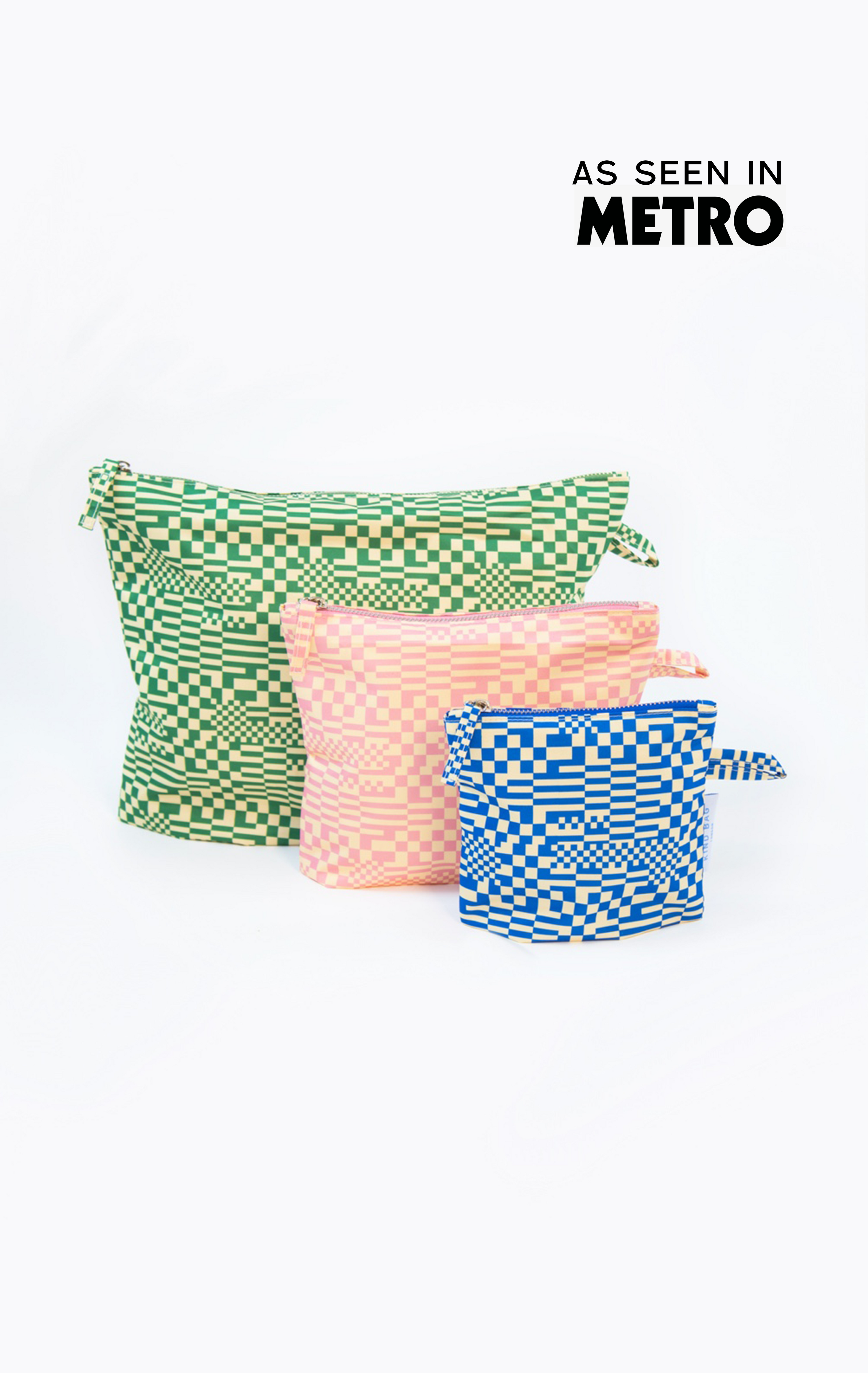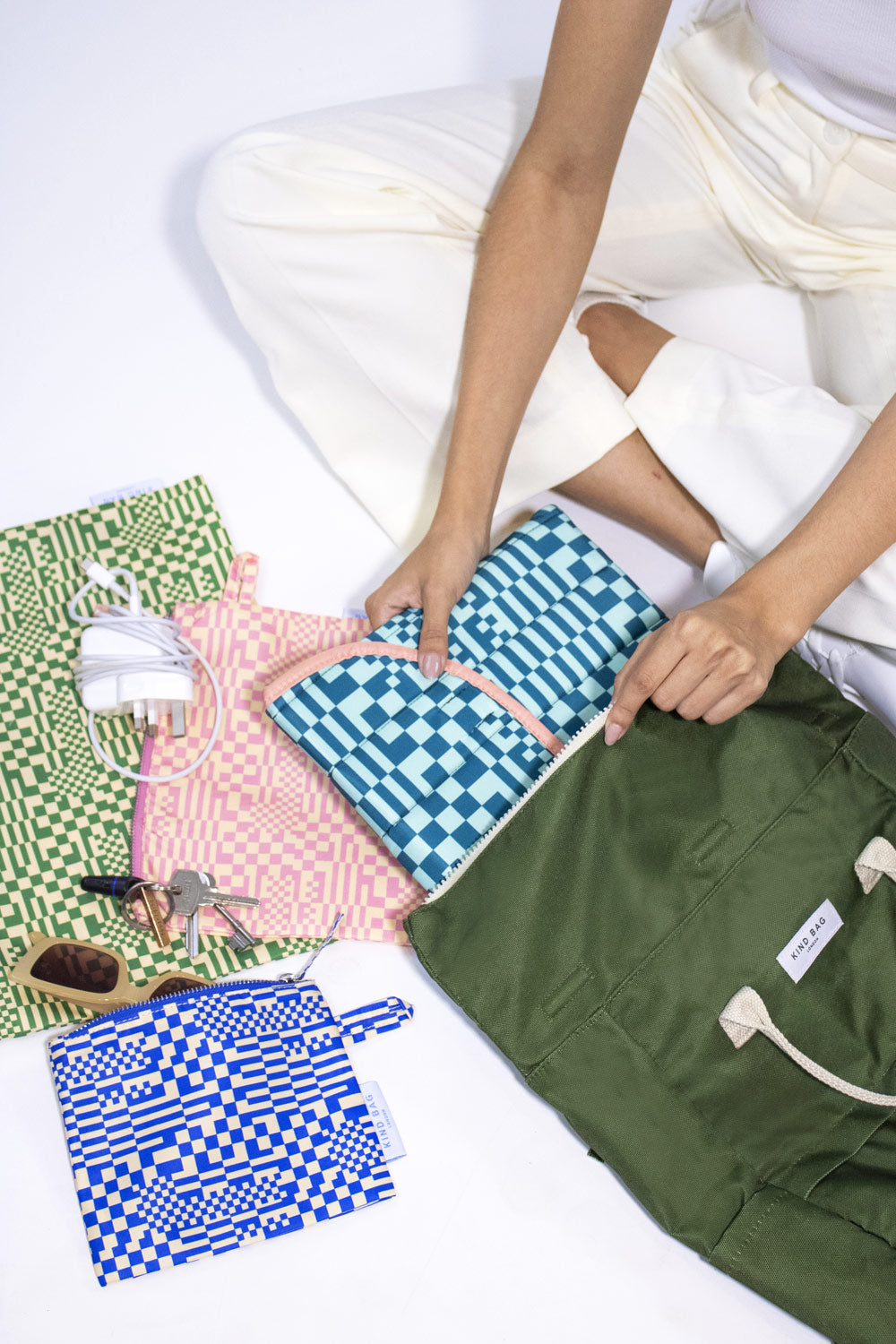 Pouches | Trippy Check | Set of 3
Our set of three zip pouches are ideal for on-the-go or organising at home. The three different sizes make it easy to neatly pack a bag or organise your 'bits and bobs' and store everything from travel essentials and stationery to makeup and clothes. They even lay flat when not in use making it easy to take them with your wherever you go. Trippy Check Pouches has also been featured in The Metro.
FEATURES
100% recycled & recyclable material
Made from 5 recycled

 

plastic bottles destined for our oceans.

Wide, flat base to allow for more space + means it can stand up

Handy hook to hang them up

Vegan and cruelty free
Safe to use for food products & BPA free
Zip to close & open the bag easily
Double-stitched for its strength making it perfect for any occasion
Actively working with charities to better the world. 
Pouches | Trippy Check | Set of 3
PRODUCT SIZES AND CARE INSTRUCTIONS
Product Sizes
Reusable Bags
Medium Reusable Bag - 39 x 64 x 17 cm (15 x 25 x 6.7 in). Pouch - 14 x 15 x 1 cm (5.5 x 5.9 x 0.4 in)
Mini Reusable Bag - 26 x 43 x 14 cm (10 x 17 x 5.5 in). Pouch - 13 x 11 x 1 cm (5 x 4.3 x 0.4 in)
XL Reusable Bag - 46 x 84 x 23 cm (18.1 x 33 x 9 in.)Pouch - 16 x 14 x 1.5 cm (6.3 x 5.5 x 0.6 in) 
Backpacks
Hackney Backpack | Mini - 26 (+12 roll top) x 22 x 12 cm. Capacity of 6.8 litres, 10 litres with roll top  
Hackney Backpack | Medium - 33 (+12cm roll top) x 25.5 x 12.5 cm. Capacity of 10 litres, 14 litres with roll top 
Hackney Backpack | Large - 38 (+17 roll top) x 30 x 14 cm. Capacity of 19.7 litres, 23 litres with roll top 
Weekender Bags
L 44 (L 53 when unbuckled) x W 21.5 x H 35.5 cm 
Tote Bags
Body: 40 x 41 x 10 cm. Handle drop: 27 cm
Small Bags
Pouches - Small: 17 x 14 x 7cm. Medium: 24 x 19 x 12 cm. Large: 36 x 26 x 16 cm
Lunch Bag - L22 x W14 x H33 cm (H24cm when rolled)
Laptop Sleeve (13inch) - 33 x 25 x 2 cm
Care Instructions
Reusable Bags, Backpacks, Weekenders, Totes, Lunch Bags, Pouches, Mesh Bags:
Machine-Wash at 30°C on a Delicate Setting (Spin Cycle Speed at 600-800 rpm). Please do not Tumble Dry. 
-
Laptop sleeves:
Hand Wash Only
DELIVERY INFORMATION
U.K, Islands, Highlands
Standard Delivery with a proof of delivery (3-5 working days / Royal Mail) at £3.95, free for orders over £40
Express Tracked Delivery (1-2 days / Royal Mail) at £6.50, free for orders over £100
All orders placed after 1pm will be dispatched on the next working day.
We use Royal Mail for both Standard and Express delivery for mainland UK. If you require your order to be sent with any other courier, please do get in touch with us before placing an order. 
Sending as a gift?
We'd love you to send our bags directly from our warehouse to your recipient as gifts - rest assured there'll be no billing information included in your order. Our mailing carton is also letterbox friendly for contactless delivery (up to 6 medium bags). You can also add your own message to the packing slip - add your message at the cart page before you checkout. 
Europe
Standard Delivery (3-5 working days) at a flat rate of £11.00. Free for orders over £150.
Please note that your order will be shipped from UK and with the Delivery Duties Unpaid, where the seller is responsible for the export taxes only. It is the buyers responsibility for paying the import taxes upon receipt of the item. The buyer can pay these at the local post office/online.
Countries include: 
Andorra, Austria, Azores Islands, Balearic Islands, Belgium, Bulgaria, Canary Islands, Corsica, Croatia, Czech Republic, Denmark, Estonia, Finland, France, Germany, Gibraltar, Greece, Guernsey, Hungary, Ireland, Italy, Jersey, Latvia, Lithuania, Luxembourg, Madeira, Malta, Monaco, Netherlands, Norway, Poland, Portugal, San Marino, Sardinia, Sicily, Slovakia, Slovenia, Spain, Sweden, Switzerland, Turkey, Vatican City, Armenia, Azerbaijan, Belarus, Georgia, Iceland, Liechtenstein, Moldova, Russia, Ukraine, Albania, Bosnia and Herzegovina, Cyprus, Faroe Islands, Greenland,  Kazakhstan,  Kosovo,  Kyrgyzstan,  Macedonia,  Montenegro,  Romania,  Serbia,  Tajikistan,  Turkmenistan, and Uzbekistan.
Rest of the World
Standard Delivery (3-9 working days) at £15.50, free for orders over £150
MATERIAL
Why choose "100% recycled" material?
100% recycled & recyclable material in all Kind Bags eliminating the need for single-use plastic bags. Vegan and cruelty free. High-quality, premium, strong material that is water-resistant and lightweight.
-
There're so many different bags out in the market to choose from - from cotton, plastic, paper and more. There's of course a reason why we're going for 100% recycled RPET material.

Unfortunately some "eco" bags are not actually ecological for the environment. Except for the plastic pollution in the ocean and landfill, plastic bags are actually the most environmentally-friendly option. Cotton and paper bags actually cost so much more energy to produce, and you need to reuse 7,000 to 20,000 times to have same cumulative environmental impact (water use, energy use, etc.) as a classic plastic bag (source: Denmark's ministry of environment and food).

So, we believe retrieving plastic waste before polluting the ocean or be stuck in landfill  for several hundred years, is a kinder option for our reusable bags. 
Pouches | Trippy Check | Set of 3
Pouches
I have bought this set as a present. They look very nice. If they are made like the rest of the bags I buy they will last a long while
lovely bags!
Have been looking for a bigger bag for my toiletries stuff for some time, and these are perfect. I'm going to be using one for meds, one for make up and one for my toiletries. I feel so good they're made from plastic bottles too!
Really lovely, very useful and eco friendly.
I bought these for my frequent hospital inpatient stays as I thought they would be really useful. I've since been proved 100% right as I've had to go in for surgery and took all 3 bags with me. One with small personal items in such as a lip balm, ear-plugs to ward off snorers, tissues, an emery board, my GTN spray, inhaler and sucky sweets. The second was for hygiene so held my shower kit, tooth brush and mini toothpaste, my hairbrush and mini product, mini perfume, mini deodorant, etc… the largest one was for entertainment and held my iPad, phone, a book, puzzler, pen, my EarPods and 2 bottles of lucozade for post surgical recovery treat and it contained ALL these things very easily.
I was SO impressed with the performance of these wonderful bags and am already considering buying more as gifts for friends. I know people will think 'they are only bags' but no, hospital bags need to perform well and these did, especially the one used for hygiene because it is designed to stand up making it easy to access plus, it doesn't fall over, spilling your things and risking infection - a big deal, also, these bags are waterproof, also a real boon.
Each one, if you choose it's use carefully as I did, can make life so much easier meaning you don't have to have one large bag and be raking through it all the time, searching for elusive things constantly. It made my last hospital stay so much easier and they are now my designated 'hospital bags' with their own unique functions as detailed above. The fact that they are also saving the planet as well as Me just makes me even happier.
Couldn't recommend any higher. 🥰🫶💖
Perfect pouches
Really good quality, they feel soft not at all plasticy. Great buy for keeping things organised on my travels.